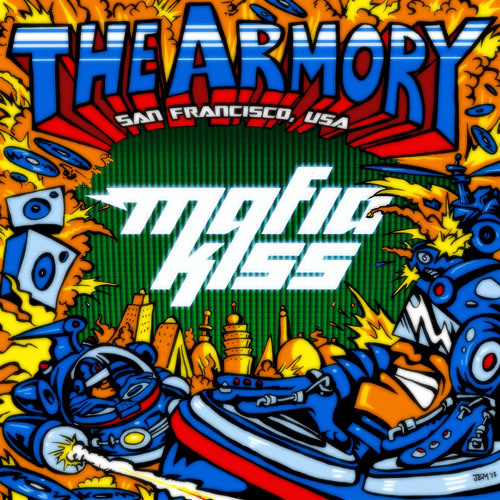 Introducing The Armory, a new weekly podcast from San Francisco DJ, Zach Moore (The RIPEcast, Gough Street Sessions). Featuring an arsenal of world class DJs from San Francisco and beyond, The Armory Podcast reloads each and every Friday with exclusive mixes from the biggest names in breakbeat and house. Syndicated on SoundCloud and MixCloud at the moment, look for The Armory Podcast in iTunes in the coming weeks.

In our very first episode 2012 Breakspoll winner, Mafia Kiss (aka Paul Baron), wastes no time kicking down the door and setting The Armory ablaze, but there is a method to his madness. "I was sent the artwork for the Armory Podcast and was told by Zach to think '80's arcade machine', says Mr. Baron. "So that stuck in my head and I wanted the mix to play along with that, hence the deeper, darker mix. I've tried to make it feel like you're completing level after level in a video game with the track selection. Make sure you're looking at the artwork at the end of the mix, too. Trust me. It will make sense!"

The Armory will also showcase the talents of renowned illustrator, Jem Panufnik. "My artwork for The Armory takes its cue from those classic back-lit, sci-fi, shoot-em-up, '80s-stlye video arcade game signs, which I love", says Panufnik. "When he commissioned me, Zach explained how The Armory was about the old analogy of DJ battle weapons, dancefloor bombs etc, and it seemed a great way to show that when the DJ pulls his trigger/fader finger it's an arsenal of sirens, squeaks, bleeps and ear-splitting analogue booms that does the damage. Really looking forward to the series!"
Mafia Kiss, the award-winning bass/breaks producer, has dominated the breaks charts of Juno, Track It Down & Beatport with releases on labels such as Rat Records, LOT49, Sunday Best Recordings, Digital Records, Sub Slayers & has recently signed to Stanton Warriors infamous label Punks. Renowned for his remixes & edits alongside his originals, Mafia Kiss's DJ sets are quickly becoming famed for the unique bass & beats "kiss" that he puts on the hottest house, electro, hip hop, moombahton & anything else in between. For more information on Mafia Kiss visit
www.mafiakiss.com
or
www.facebook.com/mafiakissmusic
.
Since the mid-nineties Jem Panufnik has been right at the cutting edge of underground art culture, most notably with Finger Lickin' Records, the award-winning dance music label he co-founded and which for over a decade acted as a springboard for his multitude of talents ranging from graphics, illustration and animation to DJing, composition and record production. His stunning visual creations have adorned countless record covers, t-shirts, club and festival projections from Glastonbury to San Francisco, as well as posters, flyers and other music-related ephemera, most of which are now extremely collectable.
For more information on Zach Moore visit
www.djzachmoore.com
.